YOUR ANXIETY IS LYING ENAMEL FINGERTIP RING
Regular price
$29.99 USD
Sale price
$26.99 USD
Unit price
per
Sale
Sold out
DESCRIPTION
Pretty and classy. this enamel anxiety ring spins very smoothly and is built to satisfy anyone with fidgeting urges. With a meaningful message card included. it makes for a perfect gift for a loved one or yourself.
CARD MESSAGE
Fidget Ring
I'm your little fidget ring.
Always keep me near.
I'm here to love and protect you
From anything you fear.
Whenever you feel anxious.
Please wipe away that tear.
I can drive away your anxiety.
And I'll always be right here.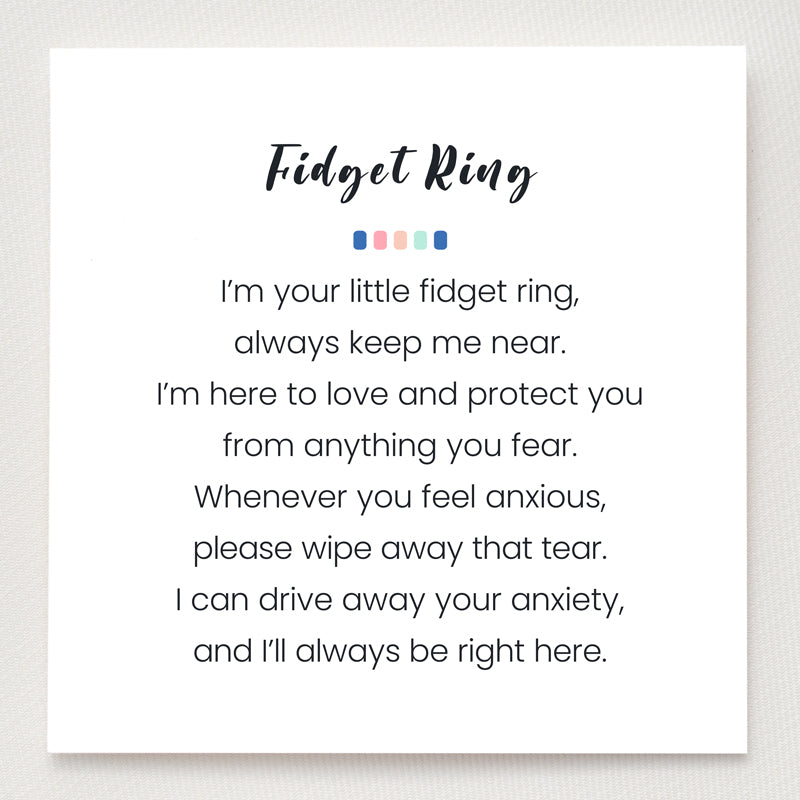 Ring Size: Adjustable Size - One Size Fits All.The rings band is designed slightly open on the backside and can be gently adjusted to fit any finger. The pictures might not show this so clearly. but not to worry.the ring size can be adjusted. when you receive it.This is the perfect solution for a gift. as you can keep it a complete secret & be confident the ring fits perfectly!
100% nickel. marks & tarnish free.We've developed our own unique silver composition designed to maximize the longevity. strength. shine and durability of our rings. Our silver is shinier. stronger and longer lasting than typical 925 silver & absolutely 100% allergy friendly with no ugly marks.
PRODUCT SPECIFICATIONS & BENEFITS:
Anti anxiety ring designed to calm the mind

Spinner rings can help focus the mind and calm down panic attacks

Fidgetting rings have been scientifically proven to help with anxiety

Open design - the ring size is adjustable to your finger

Handmade within our own factory
Free& easy exchanges or refunds if you experience any problems
#1 best sellinggift rings
100% premium quality guaranteed
100%MONEY BACK GUARANTEE
If you are not IN LOVE with your product feel free to reach out to us on Aspin. we have 24/7 support. We'll give you a stress free refund or replacement as per your preference. Customer satisfaction is our #1 concern. We know you'll love your product so we're backing it up with a guarantee to make it hassle free and risk free! Our love knot rings have a lifetime quality guarantee.