Star Moon Spinner Ring
Regular price
$26.99 USD
Sale price
$16.99 USD
Unit price
per
Sale
Sold out
Gorgeous design
So many stars up there in the sky and so many girls down here passing by; But the moon stands alone in the night and in my world only you stay by my side.¡±

This ring incorporates classic moon and stars elements.
Exquisite carved patterns bring beauty to your life.
If you're like over 30 million Americans who bite their nails. you'll love this. A ring that spins against your finger is a great way to prevent nail biting.
A Spinner Ring. which is also referred to as a Meditation or Worry ring. is a ring that has one or more rings that spin freely within a wider. inner ring. The spinning motion of the ring is designed to calm anxiety and bring about a peaceful state of mind and good karma.
ProductDetails:
Ourrings are handcrafted and made withhypoallergenic.tarnishandcorrosion resistant 316L stainless steel.
All jewellery does not contain chromium. nickel or lead.
Sizing:`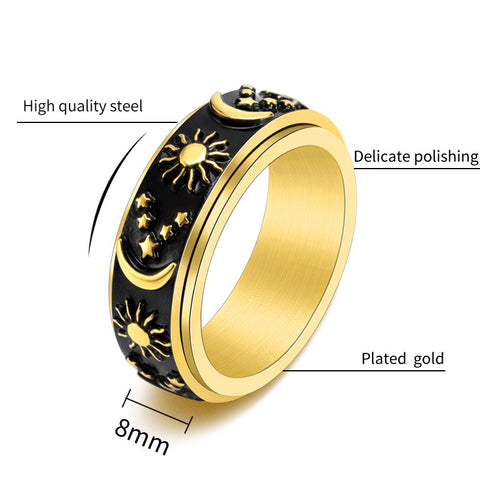 Free box
For each piece of jewelry you have purchased will be given aCustomforher box.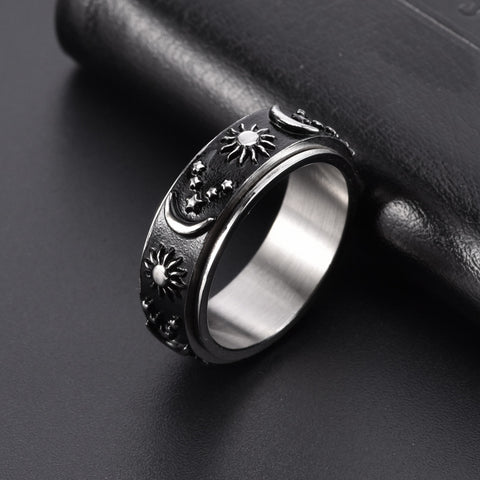 JewelleryCare:
Ring's are durable and high in quality. However. it is important to treat it with care to keep it looking good as time goes on. jewellery should be removed when bathing or applying lotions and perfumes to ensure a long-lasting shine.
To clean. wipe with a soft cloth. Avoid frequent contact with strong chemicals. such as detergent. bleach. perfume. etc. Store in a jewellery box or soft cloth.
We stand behind our products. If you are not completely satisfied with your purchase. please email aspinshop@hotmail.com and our friendly team will get it solved!